Original Magazine Covers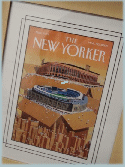 We are excited to announce our new Galleries showcasing stunning original magazine covers from vintage issues of the New Yorker, Vogue, Vanity Fair and Harpers Bazaar featuring many famous artists that have designed covers over the Years. Some of included in our collection are James Thurber, Salvador Dali and Giorgio De Chirco.
Whether your love is sailing, tennis, writing or music we have a New Yorker cover that will reflect your sophisticated taste. The New Yorker is perhaps the most prestigious and award winning of all publications and the original covers are now available at our Shop.
AMAZING SELECTION!

"Wow! A tremendous collection of New Yorker Magazine covers. I found 2 for my client's living room that she loves!"
-Janet L., Mamaroneck, NY
Interior Designer
We carry the following Magazine Covers:
New Yorker Magazine Covers
Vanity Fair Magazine Covers
Vogue Magazine Covers
Harper's Bazaar Magazine Covers
and more...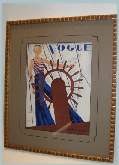 Visit us and find out why decorators who have searched for the perfect accent piece have relied on our vintage framed covers to grace their clients' homes. A vintage cover can commemorate a special birthday or anniversary. Each of our covers has been individually framed and will serve as the perfect complement to your home decor.
Visit Our Mirror and Mirror Frame Showroom
Visit our Scarsdale showroom or contact us to get more information or to ask questions or get more information about our original magazine covers.