Frames: Art Frames and Picture Frames
BIGGEST FRAME STORE AROUND!

"You have the most gorgeous selection of frames! I never go anywhere else."
-Lisa S., White Plains, NY
Frame customer for over 10 years
We carry a specializied selection of museum quality frames for the sophisticated shopper. Our frames are those that you see in Museums and Galleries around the world. Whether you are framing an accredited masterpiece, your family photos or your children's art we have the frame that will suit your needs.
Experienced Framers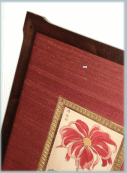 Our distinguished frame makers have created masterworks around such famous works of art as Picasso's D'amoiselles D'Avignon and Gilbert Stuart's iconic unfinished portrait of George Washington.
We also focus on the use of exquisite materials such as hand wrapped fabric matting, and gilded inner frames that edge the inside bevels of the mats. Components such as these bring vibrancy to the harmonious relationship of art and its' surroundings.
WOW!

"In Westchester I've never seen so many quality frames!"
-Jane M., Scarsdale, NY
Frame customer for over 12 yearss
Visit Our Frame Showroom
Visit our Scarsdale showroom or contact us to ask questions or get more information.