Custom Mirrors and Mirror Frames
AMAZING SELECTION!

"I visited many shops for mirrors and framed mirrors before I discovered your mirror store. What an amazing selection."
-John F., New Rochelle, NY
Mirror Customer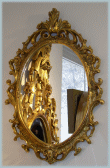 We can customize and fabricate any framed mirror to your choice of size and style. Whether you prefer Baroque, American Traditional, Modern or Contemporary we can design the perfect mirror for your home. We are also a source for exquisite round convex federal mirrors and rare antique Venetian mirrors.
PERFECT!

"The custom mirror looks perfect in my home!"
-Lee L., Scarsdale, NY
Custom Mirror Customer
Visit Our Mirror and Mirror Frame Showroom
Visit our Scarsdale showroom or contact us to get more information or ask questions about our custom mirrors and mirror frames.