Antique Art Restoration, Picture Restoration and Repair
"I could not appreciate how beautiful my painting was until you restored it for me."
-Janet L., Scarsdale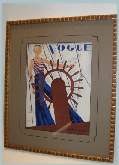 Framing At Depot Place offers conservation services for all types from repair to framing restoration services inlcuding picture framing restorationincluding, Antique Art restoration, Oil Painting restoration, Paper works, Textiles and Photography. Framing At Depot Place employs the finest Domestic and European Conservators to return your damaged art and heirlooms to their original state.
Art and Picture Restoration and Conservation and Framing Restoration Services
Our picture and art conservators picture framing restoration services will breathe new life into your damaged paintings and photographs. Seamless integration of restorative techniques will reveal that your damaged heirlooms are in fact masterpieces waiting to happen.
LOOKS BRAND NEW!

"Your art restoration services are amazing; my antique art work looks brand new!"
-Rich S., Tarrytown, NYC
Had Art Work Restored
Restoration and Other Services
Frame Restoration
Art Restoration
Picture Framing Restoration
In-home Consultations
Professional Art Installation
Conservation Framing
Paper Restoration
and more...
Visit Our Art and Picture Restoration Showroom
Visit our Scarsdale showroom or contact us to ask questions or get more information of picture and art restorations.